Hello Scrabbler !
The scrabbleman can help you play better scrabble.
Tailor made videos and exercises to help you become a better player at your specific level.
You could be an absolute beginner, or an aspiring world class player.
You have what you need right here, to take your game to the next level.
In partnership with www.woogles.io scrabbleman is organising games every sunday
www.woogles.io/club/sundaysixes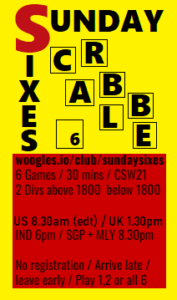 SCRABBLE MAN is now doing language games on the language learning app TANDEM
These are officially endorsed events by the TANDEM language learning team.
Word Games will be conducted every week. GO TO PAGE
LIVE RECORDING OF THE WORKSHOP CONDUCTED ON 21/08/2022
Ft. Sen Cheryl Kagan US
FREE ONLINE WORKSHOP ON FRIDAYS (US + CAN) & SATURDAYS ( EUROPE, ASIA, AU)
PLEASE SUPPORT! All of the material and workshops are conducted on a weekly basis FOR FREE!
A donation of any amount will certainly help my cause in maintaining this site and also help me continue to devote more time towards developing more content. THANK YOU! 
Please do not worry if you are not able to donate. You are free to enjoy all that is on offer here! It is an absolute pleasure to help you improve your skills in playing scrabble.                    
                                                         NEW ANNOTATED GAME  FORBEGINNERS !
LIVE RECORDING OF THE WORKSHOP NOW AVAILABLE 
This is an intermediate training session held at the Sri Lankan Scrabble league
Date: – Sat 16 Jun         Time:-  8.30 am ( + 5.30 GMT ) , (summertime + 4.30 DST )